Hi everyone! Sorry this blog kind of died over the last couple of weeks! Apart from things like it being my birthday last Wednesday and being out rather than at home writing WWW posts, the main reason for my absence is:
I AM IN THE DREADED READING SLUMP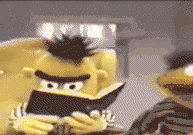 In the two weeks since I last posted a WWW post, I have finished one book! ONE! And it's taken me 4 days to read 22% of a YA fantasy that I received as an ARC. At the moment, reading feels like a bit of a chore but I'm trying to find my groove again. Getting back onto the blog regularly is part of that.
So with that in mind, it's time for WWW Wednesday! This blog hop is hosted by Sam over at A World Of Words. Link up with us by commenting on Sam's post for this week, and just answer the three questions.
What have you recently finished reading?
I finished my reread of 1984 by George Orwell, though not before I saw the stage play. I think I would have benefited more either having reread the whole book or not at all. The play was still good, though, and I think I appreciated it more as I completed the book. The first time I read the book was prior to me reviewing on a regular basis, so I'll have a review up soon.
I didn't post a single review since my last WWW, either! Stupid reading slump.
What are you currently reading?
I started Daughter of the  Burning City by Amanda Foody; it's the one I mentioned has taken me four days to get through the first quarter of. I don't mind it, but the characters seem a bit bland and I'm having trouble getting my head around some of the world-building. I'm hoping that it'll pick up, though, as I had quite high hopes for this one.
What do you think you'll read next?
I got a text from my library today to say that Flame in the Mist by Renee Ahdieh has come in for me. I've had really high hopes for this one, too, so hopefully the reading slump won't affect it too much.
What are you reading this week? 🙂

P.S. If you feel so inclined, head on over to my writing blog, Letting the Voices Out, where I've shared an excerpt from my current WIP today.